Julia Wills – Children's Author
Although Julia Wills was born in the last century this absolutely does not make her as old as the Ancient Greeks she tells stories about. However, she does admit to writing for just about as long as she's been able to hold a pen. As a child she lived in the north of England, in Stockport, a town famous for its enormous Victorian viaduct made of 11 million bricks. The artist L S Lowry was very fond of painting it, although it did take up most of his paint, which meant that he had to make his cats and dogs very thin.
After studying Psychology at Oxford University, Julia completed a PGCE at Northampton and a Masters in Writing at Glamorgan (now the New University of South Wales).  She has always written but has had lots of other jobs too, such as maintaining a photo library for a Texan oil company, tasting sausages, working for batty professors at Oxford and teaching Year Four children in Northamptonshire.  It was here, in the classroom, as Miss Wills, that she discovered just how much children love the Ancient Greeks, their fabulous monsters and glitzy heroes, and more importantly, how children love a good laugh when they read.
Julia lives in Warwickshire with her husband, Jim, and their dog, Bosworth, who is half-poodle, half-spaniel and all cuddles.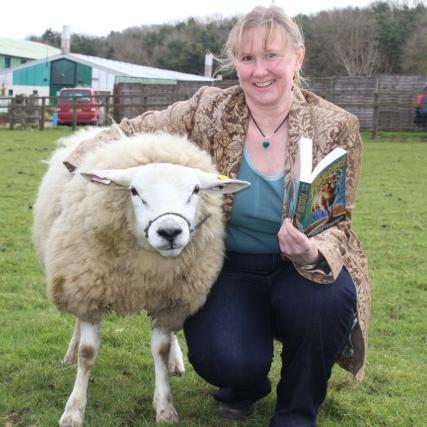 What inspires your writing?
Characters with problems out of the ordinary who try to solve them in ridiculous ways.  That and giving my readers a good laugh.
What has been the most exciting moment of your career so far?
Holding a copy of my debut novel in my hand for the first time was pretty awesome.  But so was being invited by the children's reviewers from 'Simply Books' in Bramhall, the village where I grew up, to come in and talk to them as they'd enjoyed the novels so much.  
How did you first become an author?
I've written for as long as I can remember and recently turned up an early classic of mine, a beribboned booklet with felt-tip pictures, written when I was seven, about a mouse who took a holiday and brought back a suitcase of cheese.  
What are you reading right now?
"You're a Bad Man, Mr Gum!" by Andy Stanton, which is hilarious and making me laugh out loud.
What was your earliest career aspiration?
I remember wanting to be either a vet or a ballerina.  Luckily, I opted for writing instead, otherwise I could have been harassing windy hamsters whilst wearing a glittering tutu by now.
What advice would you give to budding writers?
Write what you enjoy and enjoy what you write.
What was your favourite childhood book?
Winnie-the-Pooh.  And, like all the best children's books, when you read it again as an adult, you see things in it that you missed when you were younger.
What is your favourite place to write?
Ooh, I'd love to be able to say on a balcony of a gorgeous Greek villa overlooking the Aegean Sea.  However, since I've never been to Greece, I'll have to stick with the truth.  My favourite place to work is from the little front bedroom of our house, with a big notice board, covered in plot notes and ideas on the wall in front of me, and a floor sprawled over by Bosworth, my Cockapoo.  This works perfectly, unless Bosy is snoring, of course.
How to you read – print, digitally or both?
I read nearly all fiction in print as I don't think there's anything to beat the feel of a real book in your hands.  However, for research, digital reading on the net is invaluable.  I still have muscles like Popeye the sailor from carrying all the reference books back from the local library over the years.
Who do you most admire?
I admire people who use their success to help others, for example Jacqueline Wilson, who works with Chatterbooks, an organisation that helps build a love of reading in children.  I also admire Roger Federer and Jessica Lange, who are ambassadors for UNICEF.
Just Some of the Reviews
What a brilliant read! A fantastic retelling of ancient Greek myth for children and adults alike. Julia Wills does such a great job of making the legend of the Golden Fleece not only accessible but downright hilarious, bridging the gap between the ancient Greek Underworld and modern London with effortless ease. Highly recommended, and I can't wait to read the next one!
This is one of the most fun, and funniest, books I've read all year. My love of Greek Mythology meant I enjoyed all the gags about that, and there's lots of more modern jokes in it too. Then there's the chapter titles, of which about 95% are puns. By the time I got to The Flocky Horror Show, I was absolutely done.
Fleeced! was a fun ride, twisting the Greek myths that we've all come to know and love into a fresh story. Julia Wills's delightfully narrated debut novel is guaranteed to produce laughs from readers of all ages. I'm looking forward to reading the next Aries Adventure, with more ram-related humour and crazy spins on Greek myths!